RENEW YOU PEELING PADS
Our lowest price 1-30 days before price reduction:
Previous lowest price
Our lowest price 1-30 days before price reduction:
NOTE. The price is the lowest price applied for the product 1-30 days before the current price reduction was implemented. The exception is if gradual reductions have been made, then the lowest price 1-30 days before the first price reduction is shown.
Exfoliating
,
Hydrating
,
Mild
Moisturizing your skin with AHA and PHA that helps remove dead skin cells and LHA that can gently exfoliate skin cells. Formulation and pad can also be used for sensitive skin.

Includes: 60 pcs of pads. 
Vegan


Moisturizing


Gently exfoliating



Gentle

AHA
A water-soluble component that is effective in removing unnecessary dead skin cells from the skin surface. They help peel away the surface of your skin so that new, more evenly pigmented skin cells may generate and take their place. After use, you'll likely notice that your skin is smoother to the touch.
LHA
A derivative of salicylic acid, the major benefit of LHA, lies in its gentle, non-irritating mode of exfoliation. Meaning it's tough on acne and gentle on sensitive skin. LHA's exfoliating action lifts dead skin cells from the surface of the skin for a smoother complexion.
Country of origin: South Korea
Apply the product after washing your face, wipe it gently along your entire skin texture and avoid the eye area. Let the product work for 2-3 minutes and then rinse off.
AQUA, BUTYLENE GLYCOL, 1,2-HEXANEDIOL, GLYCERIN, LACTIC ACID, GLUCONOLACTONE, PROPANEDIOL, TROMETHAMINE, CAPRYLOYL SALICYLIC ACID, ETHYLHEXYLGLYCERIN, LAVANDULA ANGUSTIFOLIA FLOWER EXTRACT, ORIGANUM VULGARE EXTRACT, ROSMARINUS OFFICINALIS LEAF EXTRACT, THYMUS VULGARIS FLOWER/LEAF/STEM EXTRACT, C12-14 PARETH-12, SODIUM PHYTATE, PHENOXYETHANOL, PARFUM
Included in these kits
A complete selection of the Bedtime Collection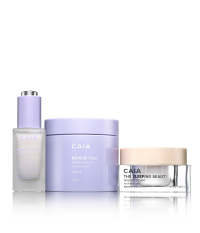 Skincare Kit - All Skin Types
Recommended products