THE SLEEPING BEAUTY NIGHT CREAM
Our lowest price 1-30 days before price reduction:
Previous lowest price
Our lowest price 1-30 days before price reduction:
NOTE. The price is the lowest price applied for the product 1-30 days before the current price reduction was implemented. The exception is if gradual reductions have been made, then the lowest price 1-30 days before the first price reduction is shown.
Hydrating
,
Nourishing
,
Soothing
This nourishing night cream takes care of your skin during your beauty sleep. It is enriched with active ingredients such as Aloe Vera and Panthenol that will help to moisturize and calm your skin. The Sleeping Beauty boost a cream texture and will leave a silky and gentle feeling when applying. This night cream is suitable for all skin types.
ALOE VERA
Works on all skin types since it is very soothing and can have a cooling effect on skin that is subjected to a lot of stress, has a rash or is dry. Aloe Vera is also anti-inflammatory and moisturising.

PANTHENOL
Panthenol (sometimes called provitamin B5) is a popular moisturiser in personal care products due to its ability to absorb and retain moisture. When applied topically, it is converted to pantothenic acid, which is a naturally occurring substance in the body.

HYALURONIC ACID
Hyaluronic acid has restorative properties and can increase the skin's moisture level, soothe the skin, and help retain moisture. It can hold up to 1,000 times its own weight in water, making it an optimal moisturiser for all skin types. From the age of 25, the body's own production of hyaluronic acid decreases, which means that we need outside sources of replenishment. Hyaluronic Acid gives the skin a natural glow.
Country of origin: France
Apply your night cream on clean skin as a final step in your nighttime routine.

AQUA, GLYCERIN, CAPRYLIC/CAPRIC TRIGLYCERIDE, COCO-CAPRYLATE/CAPRATE, BUTYLENE GLYCOL, GLYCERYL STEARATE, ORYZA SATIVA GERM OIL, ALOE BARBADENSIS LEAF JUICE, SODIUM HYALURONATE, PANTHENOL, TOCOPHERYL ACETATE, SACCHARIDE ISOMERATE, HYDROGENATED VEGETABLE OIL, CARBOMER, HYDROXYACETOPHENONE, CITRIC ACID, SODIUM CITRATE, POTASSIUM SORBATE, SODIUM POLYACRYLATE, DIMETHICONE, PEG-8, CETEARETH-12, SODIUM PHYTATE, PARFUM, CAPRYLYL GLYCOL, CETEARYL ALCOHOL, CETYL ALCOHOL, PHENOXYETHANOL, SODIUM HYDROXIDE, SODIUM BENZOATE, CI 17200
Included in these kits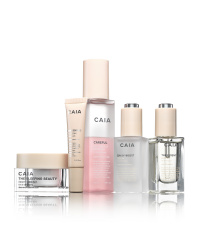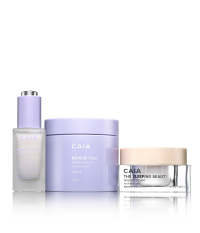 Skincare Kit - All Skin Types
Recommended products