TRANSLUCENT MATTE
Our lowest price 1-30 days before price reduction:
Previous lowest price
Our lowest price 1-30 days before price reduction:
NOTE. The price is the lowest price applied for the product 1-30 days before the current price reduction was implemented. The exception is if gradual reductions have been made, then the lowest price 1-30 days before the first price reduction is shown.
Setting Powder that mattifies and evens out your skin and sets your make-up. With its light formula, it is easy to apply and the soft loose powder becomes one with your skin without feeling dry. Apply after foundation and concealer to set your make-up for a result that stays matte all day.
Matte Setting Powder comes in three different shades as well as a transparent version. It's also vegan.

Warm undertone
Yellow, olive or golden skin



Cold undertone
Blue, pink or reddish skin



How do I know what undertone I have?
If you have blue/dark purple veins, you probably have a cold undertone. If your veins look more green, you have a warmer undertone. With a cold undertone, you should use a foundation with a pinker tint, while a yellower foundation suits a warm undertone.
Tips!
Find a white piece of clothing and hold it up next to your face in daylight. If your skin looks pinkish, you have a cold undertone. With a warm undertone, your skin tone will look more yellow.
Apply it after your foundation and concealer.


Remember not to use too much product at once. Instead, apply a little at a time and build up to your desired result.


Apply with Setting Powder Brush F15 or Pointed Setting Powder Brush F16.


Apply where you easily become oily or where your base can sometimes move, such as your t-zone, nose and chin.


Finish with one of our setting sprays for a look that lasts all day!
How much colour does it give the skin?
The transparent version is completely transparent and does give the skin any colour. Honey and Chocolate give the skin some colour but are mainly for setting your makeup.


In what step of my makeup routine should it be applied?
Apply it after your foundation and concealer.


What do I use to apply it?
Apply it with Setting Powder Brush F15, Pointed Setting Powder Brush F16 or with our Perfect Blender.


Where do I apply setting powder?
Apply powder wherever you tend to get oily during the day and where your base might start to move - for example, on your nose, chin and t-zone.


Does it dry out the skin?
It is a very creamy formula that adapts to your skin and blends in easily. This means that it does not dry out your skin.


Is it suitable for mature skin?
Yes, because it only provides light coverage, it is also suitable for mature skin.


Is it vegan?
Yes.


Is it "non-comedogenic"?
There is no approved industry regulation for that label. Some brands put the term on their products based solely on the fact that they do not contain certain individual ingredients known to block pores, without actually testing to prove that the formula does not cause outbreaks. We can't promise anything, but our Setting Powder is free of petrolatum and oil, which are known ingredients that many people experience as pore-clogging.


Is it gluten-free?
Only gluten ingested by mouth can be harmful to persons with coeliac disease, so makeup and skincare products are safe even if they contain gluten. When it comes to lipstick, traces do end up in your mouth. This means it's just like food; if there's gluten in the product, you will wind up ingesting it.
Talc, Magnesium Myristate, Nylon-12, Polymethylsilsesquioxane, Silica, Aluminum Starch Octenylsuccinate, Caprylic/Capric Triglyceride, Caprylyl Glycol, Phenoxyethanol, Hexylene Glycol
+/- : CI 77491, CI 77492, CI 77499, CI 19140
Included in these kits
Setting Powder & 2 Brushes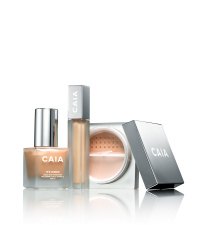 Foundation, Concealer & Setting Powder